what is chiropractic > history | myths

Chiropractic is rich in history and tradition. Here's our very abbreviated version of the History of Chiropractic.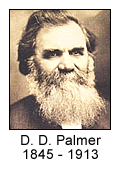 The body cures. The chiropractor simply adjusts segments of the spine so that the body can get on with the job of curing itself. The philosophy first enunciated by the founder of chiropractic more than 100 years ago, Daniel David Palmer, still holds true today.
Chiropractic was discovered in 1895 in Davenport, Iowa at a time when little was known about how the body functioned and even less about the role of the nervous system that controlled and coordinated its activities.
The classic "first adjustment" story goes like this. Harvey Lillard, a janitor, had been deaf for about 17 years after injuring his neck. On September 18, 1895 he was working in the office of Dr. Daniel David Palmer. Dr. Palmer examined Harvey's spine and located an unusual protrusion which he concluded was a misaligned vertebrae. He artfully corrected the bone's position and three days later Harvey's hearing was restored.
Dr. Palmer had been working with the spine for about 10 years before this event. His understanding of the relationship between the nervous system and health had been evolving with each case. The Lillard case, however, is formally recognized as the birth of chiropractic.
Dr. Palmer derived the name of this new treatment and science from the greek "Chiro" meaning hand, and "praktikos" meaning done by, resulting in Chiropractic – Done by hand.
Dr. Palmer's greatest contribution may have been his farsighted approach to health. Dr. Palmer's theory, upon which chiropractic is built, is based on the principle that a person's health is directly proportional to how well the body is functioning.
pictures and more history coming soon