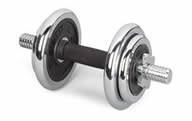 We are huge believers in exercise to help keep the body strong and healthy. Here's a few good dumbbell Strength Training exercises for general strength and fitness, not to mention body shaping. Simply click on the links above for each body part. We will be adding more exercises to the list, check back often.
Why dumbbells? Dr. Cass believes dumbbells are the best form of weight resistant training. Dumbbells allow for more muscle recruitment and allow for maximum range of motion.
note: These exercises can be performed on a standard weight bench, or as a variation, you can use an exercise ball to help strengthen the abdominal muscles and low back.
As with all exercises, stop if you feel any pain.
Give us a call or an email to let me know if these types of articles are helpful.